Business phone service, revitalized.
Learn more about how Meganet's next generation VoIP system can offer your business unrivaled reliability, an assortment of productivity features, and on-the-go capabilities. It is the next leap forward in business communications at an affordable price.

Digital Voice for Business is cloud-based, which means you don't need expensive equipment and dedicated space. All equipment is stored in our secure data centers, and we take care of maintenance and updates. So all you need are our Cisco-powered phones, an Internet connection, and you're ready to go.
Complete control, all the time.
We recognize that businesses demand granular control when it comes to how their phone systems function, and we proudly offer the Business Voice service with that in mind. Customers can expect:
Account control: many all aspects of your phone system and review logs online, any place, any time.
Desktop and mobile apps: take and make calls from our desktop and mobile apps using your business phone number.
Smart forwarding: automatically forward calls to another phone number in the event of a power outage.
A professional experience, from start to finish.
Forget about busy signals and phone systems that can't keep up. Business Voice is designed to keep your small business moving forward.
Auto-attendant: a virtual receptionist will answer and direct calls using conditions you specify. Getting a call to the right group is as easy as can be.
Call hunting: Calls can be transferred from line to line until someone answers, so your customers won't have to call back more than once.
Announcements on hold: promote your latest products and services while customers are on hold.
Plenty of features to make your operation run smoother.
Anonymous call blocking
Call barge-in
Detailed call history and log
Call parking/retrieval
Call hold
Soft and hard call transferring
Call notifications and voicemails by email
Desktop and mobile clients
Feature access codes
User portals
Phone directory and speed dial
Ring customization
Visual voicemail
Highly-customizable voicemail
Conference calling
Busy lamp monitoring (see which employees are currently on the phone)
Call waiting
More
These are only some of the features offered with Digital Voice.

Experience the latest in greatest in phone technology. Multi-line Cisco™ powered devices can grow with you business with expandable sidecars, which can be used as speed dials or to see which employees are on the phone.
Despite their capabilities, they could not be easier to use. Contextual on-screen menus provide relevant options at all times, so there's no second guessing.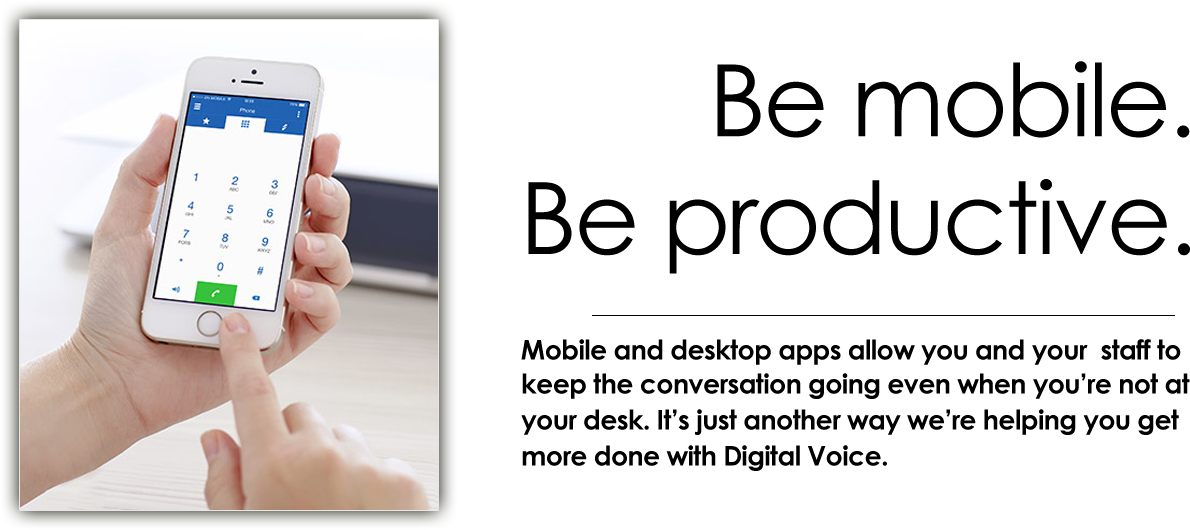 Business Continuity
Because Digital Voice utilizes an internet connection, there is a possibility a power outage or ISP-related issue can disrupt IP phone systems.
With Business Continuity, you can rest easy knowing that if your Internet connection goes down, your calls will still come through. Our systems automatically recognize when a disruption occurs and immediately begins forwarding calls to a pre-specified number. Many customers, for example, will use a cellular phone number. When your internet recovers, the system reverts to its normal operating state.
There's Even More
We want to show you just how good our Digital Voice IP phone service is. Contact us today at 508-646-0030 or email sales@meganet.net to schedule your free demo!