Colocation, Managed Servers, and Datacenter Services
Companies understand how critical it is that their dedicated servers and data be stored and hosted in the most secure, reliable manner possible. For those needs, MegaNet maintains a carrier-class colocation data center facility in the city of Providence, RI, less than an hour south of Boston, MA to provide server hosting for our clients.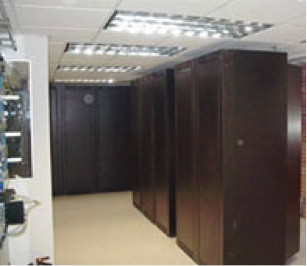 Our Rhode Island data center is located at the Foundry Complex near the Providence Place Mall and is connected to MegaNet's regional fiber loop. Just off of major highways including Routes 95 and 195, our data center provides a convenient location for businesses in Massachusetts, Rhode Island, and Connecticut.
This facility was designed to service dedicated server colocation customers who require primarily AC power in a carrier neutral facility with redundant climate control and backup generator power. DC power is available upon request. Easy access is also available to other networks in the same complex including Verizon, AT&T, Cox, Light Tower, and Level3 Communications. All colocation and dedicated server hosting clients can take advantage of our multi-homed network with multiple carrier bandwidth links to ensure constant uptime for their servers and equipment.
The MegaNet datacenter is accessible 24/7 by clients and employs state of the art fire suppression and closed circuit security monitoring. All access points are secured by multiple authentication methods including keycard and individual alarm code. Any entrance into the facility is logged by the MegaNet NOC for security purposes.
MegaNet can provide colocation space as small as 1U open rack for a single dedicated server hosting or appliance, all the way through locked cabinets (available in 1/4 increments) and custom built cages. Bandwidth is provided on a burstable basis (as low as a 1M port or as high as a 1GB+ port) to make sure your dedicated servers are always reachable, no matter the traffic load they may be under from your clients. No matter your business size, data needs, or budget pricing constraints, MegaNet has a colocation package that will be customized for you and your hosted or cloud solution.
Download the brochure
Specifications List for Colocation Datacenter
Preaction Fire Control System
Redundant DC power Feeds
AC power with UPS
Generator Backup power for AC Power, DC Power, and environmental controls
Redundant AC System
Access Control System for 24×7 access
Open Racks
Cabinets
Full Alarm System
Video Surveillance with remote access capability for central monitoring
Verizon Fiber
AT&T Fiber
Common building tenants include Major CLEC's and Carriers
Also Available:
Managed Servers
MegaNet can host and manage both application and email servers for customers of any size. Service includes 24×7 monitoring and management, and dedicated servers can often be built to spec by MegaNet technicians in a minimal timeframe.
Offsite Storage Solutions
Clients locate server equipment in our secure facility and perform secure, encrypted, offsite backups of critical data.
For more information about our colocation services or to set up a tour of our facility, please contact us today by clicking the "Request a Free Consultation" button to your right, or by calling 508-646-0030 (or toll free 877-MEGANET) today! .
+

MegaColo Customer Testimonials
Since our business operates 24/7, internet continuity and around-the-clock security is essential. With over 40 email servers being housed at MegaNet's Data Center we've come to trust their team of professionals. There's only one reason we house our servers at MegaNet – dependability.
Paul Roulier – Owner
Peer-to-Peer
EMail Spam Filtering Services


We're extremely satisfied with the email server that we host with MegaNet. It's extremely versatile, reliable and was a snap to setup. Sharing schedules and address books within the organization or just with selected users helped us immensely. Administering it is a snap compared to other programs we've used. The fact that it's web based has changed the way we work. Thanks to the staff at MegaNet for their expert, timely and helpful support with this great product.
Dennis Foye – IT Manager
Plimoth Plantation
A not-for-profit museum