Security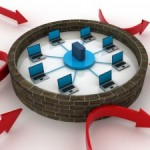 Security is crucial when it comes to your business and your data, which is why we're happy to offer managed firewall services, Virtual Private Network access, and network monitoring solutions to our customers located throughout New England and beyond.
It's been estimated that in 2015, the average loss to a small company who suffered a data breach was $35,730, but could potentially reach as high as $555,660. Those losses are staggering! Every business, regardless of their size, needs to implement security to protect them against data loss.
If you're considering enhancing or strengthening your security, download our complimentary eBook "Managed Security: Providing Enhanced Protection at a Lower Cost"


Our free eBook goes into greater detail about how businesses need strong security solutions to help protect their network and client data, but don't need to break the bank to implement those solutions.
For more information on how MegaNet's managed security solutions such as firewalls and multi-site VPN can benefit your company, just choose an option below.