Learn more about MegaNet Voice services that can help increase your calling productivity while decreasing monthly fees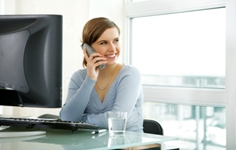 MegaNet Business Digital Voice services offer customers of any size a perfect telephone service solution. You can choose from either metered or unlimited calling plans, based on need and budget. Bundle Digital Voice with our Internet services ranging from DSL and T1 through Metro Ethernet, or use an existing high-quality connection to begin saving on your phone bill immediately.
Unlimited use phone lines begin at $25/month

Hosted PBX

for business begins at just $14.99/month per phone

PRI and SIP trunks

begin at $299/month
If your business is considering moving to Hosted PBX to increase calling productivity while decreasing monthly usage and maintenance costs, download our FREE eBook "10 Reasons to Switch to Hosted PBX Service"!

Toll free numbers and rates are also available for customers – move your existing numbers over, or we can provide new toll free numbers for you at any time. Additional single or blocks of local phone numbers can be added on as well. MegaNet's extremely flexible voice services grow with your company, without the hassle of additional wiring, site visits, or hourly rates simply to add a new phone or employee to your system.
There are no hidden fees or secret charges with MegaNet's Digital Voice services – your monthly bill will only contain your service fee, required state tax, and two small fees to cover e911 and Local Number Portability. That's it. No add on surcharges, no "recovery fees", and no charges with some strange acronym in ALL CAPS that you simply can't figure out.
If you'd like to learn more about how MegaNet's Digital Voice service can help your company increase communications productivity while potentially decreasing your monthly telecom bills, just call us at 508-646-0030or click HERE to request a quote today!