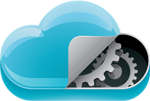 For any computer user, making sure important personal and business data is backed up is crucial. This year alone, data loss will cost businesses and consumers nearly $12 billion dollars in lost productivity and revenue. Protect yourself and your assets with MegaNet's online based MegaBackup service!
The MegaBackup service is more than just an online storage service. We provide all users with an automatic backup client that can run on a local PC, or on a server to back up your mission-critical documents and data.
Home User Packages begin at $9.95/month, and Business Power Packages begin at just $15/month. Clients who sign up now for 12 months of service will get the first month FREE!
Keep yourself and your data protected – contact us today to learn more!
Go back