Summertime seems to be the biggest time of year when employees will exercise their flex time, or telecommute as part of their daily work plan. If you've ever seen the traffic down on Cape Cod in mid-July, you'll understand why people are more productive when working from home most days!
In today's workplace, more and more companies are allowing employees the flexibility to work when (and where) they are the most productive, and are giving them the tools to be successful. While email and instant messaging have become more common in the office environment, staying in touch via phone call is still the top way people communicate. Cell phone service has become much more reliable over the years, but many companies still prefer to be able to call employees by just dialing a quick extension, and employees working remotely still want to take advantage of their "work phone" features such as conference calling, and call reports.
Hosted PBX offers businesses of any size the ability to keep all of their employees on one central calling platform while giving them the flexibility to be reachable from just about any location. For instance, many companies who use Hosted PBX for their phone platform will provide telecommuting employees with an IP phone configured to work with their call platform. This way, the employee working from a home office (or remote location) can still be reached through a call group. Let's say, for instance, the employee provides technical support to the company's customers. If a customer calls into the company's main number and chooses the "technical support" option off of the main phone menu, the employee's home office IP phone will ring as part of that group, or if they are the first employee in line for the next inbound support call.
Employees on their company's Hosted PBX platform can be reached through their normal extension, as if they are sitting at the next desk in the office, rather than their home hundreds of miles away. Telecommuters can be reached instantly, they can be conferenced into a call with just a few keystrokes, and they can also have their extension forwarded to their cell phone if they'll be away from their desk – just like they could if they were in the office.
Employers also like Hosted PBX because it provides them with real-time call statistics and logging, so they can track and predict call patterns. Some employers have the valid concern that employees working from home might not be as productive as they would being in the office, so the ability to see their call records and durations help them gauge the level of workload the telecommuting employees are handling. It's a valuable asset to employers when it comes to staffing levels and measuring inbound calls from advertising campaigns, for instance.
Hosted PBX not only provides the flexibility and features many businesses desire, it does so at a lower overall cost as well. Monthly fees per line can range from $15-$30, and the setup fees are much lower as well since companies only incur the cost of the phone itself; there's no PBX hardware to buy, no cabling and installation fees, and almost no ongoing maintenance or service calls to consider.
As an all-around calling platform Hosted PBX makes a lot of sense for businesses of any size, across many industries. If your company offers flex time and telecommuting options, or is considering doing so, take a look into the benefits and cost savings Hosted PBX can provide to you and your employees.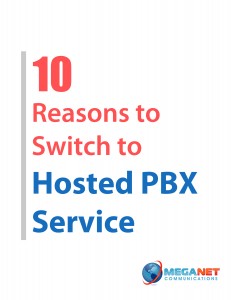 For more information about how Hosted PBX can benefit your business, download our free eBook "10 Reasons To Switch To Hosted PBX Service". In it you'll learn more about the various features and options Hosted PBX offers to help increase communications and productivity for any organization.